Become more attractive to collectors, curators, and buyers.
I'm not talking about your looks. I'm talking about the irresistible quality of CONFIDENCE.
Confidence that comes from knowing your art more intimately.
Confidence that is a result of finding language that fits with your art and goals.
Confidence to take the next steps. 
Magnetic You might be for you if … 
Some of the things former students have stressed about this program are …
Writing is manageable because the sequential lessons build on one another.
"I've gained more confidence every day."
They now have a habit of thinking about words and collecting them throughout their days and weeks.
Accountability and friendship are key to progress.
They continue to benefit from the lessons.
Develop a habit of collecting words and capturing your stories.
Write or update your artist statement.
Refresh your bio, résumé, and About page.
Clarify your brand and the image you want to project to the world. 
Learn to engage art viewers on a deeper level.
Use proven techniques to engage with art viewers.
Ready for more confidence?
Just $360 or 3 payments of $130 ($390)
I participated in Magnetic You and in the last three weeks have sold five paintings for a total of almost five figures.
I believe the key was engaging with buyers and inspiring them on how to look at the artwork.
Using your tips as a guide, I was able to create an authentic, interesting bio and list of exhibits.
I feel confident in my art and my credentials presentation with your help.
This program might be valuable to you if:
Your art has changed over the past year and you need new words to go along with that.
YOU have grown over the past year and are ready to explore how you can convey that to your audience.
You need to update your website and online presence and all the writing seems daunting.
You could benefit from the time and space to focus on your messaging and being part of a community where you can get feedback.
You commit to the time and process for developing your magnetic package.
You are more confident in how you present your art to the world.
You have the right words ready when you need to talk or write about your art.
Learning modules that build on one another and help you develop your magnetic package. 
Training videos to watch at your convenience. (Just over 3 hours total.)
Worksheets and templates to help you organize your writing projects. 
Months membership in the Art Biz Connection community, where you can get feedback on your writing and participate in our almost-weekly gatherings.
Are there opportunities you've missed because you haven't been prepared?
When you don't have the words to talk or write about your art, you don't have the confidence necessary to  reach out for new opportunities or follow up on the ones in front of you.
Without this vocabulary, you risk staying exactly where you are—without room for advancement.
You need the right words for having high-level conversations with collectors, sending exhibition proposals to curators, and drafting text for grant applications, press releases, your website, and so much more.
Just $360 or 3 payments of $130 ($390)
Your Magnetic Learning Modules
Don't leave your story to anyone else. Become a word collector, starting with a list of 100 Juicy Words for promoting your art.
Respond to the questions and assignments that will give you text for your statement. Then use my guidelines for refining it.
Keep a master resume, use my 3-paragraph formula for an easy bio, and nail your about page. Templates for exhibiting and teaching artists.
Marketing your art is so much easier when you have the elements in place. Create a visual style guide for your artist brand.
One of your jobs is to teach people how to look at and interact with your art. It seems daunting, but it's actually quite easy with these strategies.
By this point you'll have a lot of words on the paper. Get tips on editing and proofreading, and see how easy it is to repurpose each writing project.
I'm in an exhibit and the curator requested a statement. I tweaked it and sent it along. Last night she asked for a few added lines specific to my work in the show and the show's themes. What I noticed was that I was more ready to think about and write it because of participating in Magnetic You.
Pretty awesome Alyson!
I had to do a 5-minute presentation about my art for a class. Because of all the writing that I've been doing through Magnetic You, I was able to put it together a few days early, practice it, and had it timed out just right. It went very well! In fact, the woman who was sitting next to me (who used to be a CBS anchor and had her own show on NPR for 3 years) leaned over when we were all done and told me she thought mine was the most cohesive and professional presentation! Thank you Alyson!!
– Jacqueline Perreault Gonzales
That's me!
I'm Alyson Stanfield—the chief instigator at Art Biz Success.
I created Magnetic You after years of helping artists find their voice in their artist statements, bios, and websites.
Magnetic You is informed by my years as an art museum curator and director of education, where I witnessed how important words are for connecting art to the public. 
I'm the author of I'd Rather Be in the Studio: The Artist's No-Excuse Guide to Self-Promotion, leader of the Art Biz Connection community, and host of The Art Biz podcast.
I love to work with clients with a growth mindset who like to challenge themselves with increasingly prestigious goals and opportunities. I look forward to helping you however I can.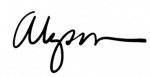 Includes?
Refund policy?
Access period?
Technology?
Personal feedback?
Includes?
6 learning modules, 37 lessons

 (a combination of video, audio, and transcripts) available on demand, at your convenience
6 worksheets, checklists, and templates.
5 bonuses, including a digital copy of my book in the format of your choice
4 months in our Art Biz Connection community forum with member-connecting live sessions, support, and accountability. ** This is where you will find the most value.
Refund policy?
Access period?
Technology?
Personal feedback?
Just $360 or 3 payments of $130 ($390)