If you're an intentional artist, you're in the right place.
I'm wrapping up a month of talking about how systems can keep you organized and make you a more productive artist. The Art Biz Podcast episodes have been a tad more didactic than usual, and hopefully they are helping you get your art business better organized.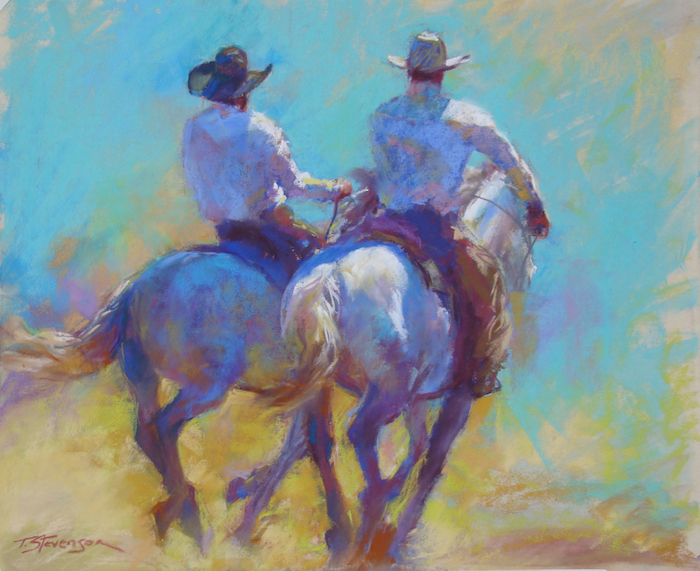 In episodes 79 and 80 I talked with artists Jennifer Printz and Betty Franks about how they have systematized aspects of their successful art businesses.
In episode 78, I did a broad overview of this topic and shared my definition of a system.
A system is a series of clear steps or procedures for accomplishing a specific task. It could be a task that you do regularly (weekly, monthly, or quarterly) or one that you do infrequently but know that you'll need to repeat it in the future.
I also went through the individual steps for creating a new business (or even personal) system that you can rely on to make life easier. Now I want to focus on documenting your system.

Music by Wildermiss
Procedures that you have to rely on to stay productive should be written down and saved in a central location. It doesn't count to have a general idea of what needs to be done and how it must happen. You document everything to save time and effort in the future, and I can't think of a single artist who wouldn't be thrilled with a little extra time in their day accompanied by a lot fewer frustrations.
So type up the procedures you'll need and keep them in a central location.
We call this…
Your Art Biz Handbook
You may hear it referred to by other, more corporate-y businesses as an Operations Manual or as Standard Operating Procedures (SOPs). My team member Kristen O'Neill says those sound too much like manuals for a nuclear plant, so we settled on Your Art Biz Handbook.
Written procedures are used in large and small businesses. And they can be a lifesaver even if you're a 1-person business.
It may seem like overkill to thoroughly document individual steps, but, trust me, your future self will thank your past self for doing this work.
At Art Biz Success, we use Notion (a software app) as our central hub for everything, so it stores all of our procedures. It stores everything. Even if a document is outside of Notion, I know that I'll find a link or location for that document within our hub in Notion. Previously, we used Evernote and did just fine with this (until I realized I needed a new system).
You can store your procedures in Google docs, Dropbox, or a file on your computer.
The most important thing is that they are in a central location. You want to know exactly where to go and be able to find precisely what you need in seconds. The central location of Your Art Biz Handbook—regardless of where you decide to store it—is crucial to efficiently running your business.
Incidentally, you don't have to reinvent the wheel. I have created the Art Career Success System for ambitious artists like you. It's an entire ecosystem for your business and contains lots of what I refer to as meta systems for individual business tasks and projects. Procedures and processes for things like writing your artist statement, increasing your income, researching and approaching venues, and growing your email list.
Business Procedures You Might Need to Document
There is no such thing as a perfect system straight out of the gate. Just decide on what you want to use for this and allow it to evolve. Allow it to be imperfect—trusting that it will do just fine for where you are at this point.
You might have procedures for:
Identify the Individual Steps in Your System
For each system you create, ask yourself the 5 questions I discussed in greater depth in this post.
1. What do you want to happen?
2. By when does it need to happen? Or, how frequently does it need to happen?
3. What do you need to have/acquire/learn to make that happen? And/Or … What tools and technology will you use for the process?
4. Who do you need to enlist to help?
5. What are the exact steps needed to make this system hum?
Now to dive into that fifth question: What are the exact steps you need to perform in order to make the system reliable and effective? This is where the magic is.
You'll be exploring these additional questions:
What is the first step?
Then what?
Then what?
Then what?
I said it was where the magic is, but this isn't rocket science. All you're doing is dissecting your tasks.
But there is a huge caveat. Each step must be a SINGLE step and include all of the information you need to perform it properly. That means all of the tools, technology, people, etc. (the answers to those 5 questions).
Example: You Have a New Collector
Let's say you're setting up a system for capturing information about a new collector. Someone just purchased your art and you want to store their information in a place that is easy to access. You further want to be sure to stay in touch with them.
Your procedures might include any of the following.
Add collector's name and contact info, including birthday if available, to my Artwork Archive database.
Email collector asking if they want to be on my email list.
Add collector's name and address to a holiday card list.
Add collector's name and address to a postcard list for shows.
Add Collector or VIP tag to collector's name in email marketing platform.
Send handwritten thank-you note to collector within 1 week.
Note the 1-month anniversary of the sale on my calendar to check in with the collector.
Add collector's birthday, if available, to my calendar.
Send birthday card to collector each year.
See how this works? What happens first, and then what? And then what?
Documenting Your Procedures Can Save Time
I know that creating a business handbook from thin air is a monumental job. You don't need to do this! You only need to commit to the process of documenting your procedures from this point forward.
I encourage you to pay close attention to those tasks you do that are difficult and that you don't do frequently enough to remember the individual steps each time.
For example, it wasn't so many years ago that it was more difficult than it is now for me to save and resize video and then post it to my website. I was so confused about the format (an archaic one I was using) and disliked the process so much that I avoided it as long as possible. Because of this, there were huge gaps between posting videos.
Every time I went to make a new video I had to relearn the process. Or I would have had to relearn the process if I hadn't taken the time to document the steps.
But documenting the steps didn't happen right away. It happened only after I tried to retrace my steps 3 or 4 times without writing them down. Oh my gosh! I never put them in our central location. Duh! When I realized my huge error, I MADE the time to type the procedures for creating and posting video, and was able to follow them each time. I was out of excuses for avoiding the process.
Prioritize Your Documentation Process
If you've never written down procedures before, this is how you can prioritize the process.
I suggest that your first priority is to capture procedures you already know or have in place, but haven't yet written down.
This is easy! You know the steps. All you need to do now is write them down so that anyone (yourself included) can follow them.
I encourage you to start here because they should be an easy warm-up to the more difficult tasks ahead.
Your next priority are the procedures that you desperately need.
What's been falling through the cracks?
Where have you missed deadlines or opportunities because you didn't follow up or follow through?
What do you know would be good for you, but you are avoiding because you don't know HOW to execute?
Write out and follow new procedures for this area of your art business.
Your last priority are procedures for everything else as situations come up. There is no need to anticipate a system that you might never need. Just pay attention when you are doing a new task that you might need to repeat later.
You'll know when this happens. You're probably doing it for the first time and are a little uncomfortable because you're using a new tool or learning a new method.
Make time to write down the steps. As I said, your future self will thank you.
What is the first step? What do you need to know to execute it with ease? Then what? Then what?
Final Word About Your Art Biz Handbook
Again, start Your Art Biz Handbook by documenting procedures you know well but just haven't written down. This will be a quick start and build confidence for tackling your next priority: procedures you really need because your business has been suffering in that particular area. Finally, you'll pay attention and start documenting procedures for new tasks as they happen.
There is no need to make up procedures for something you think you might need to do in the future.
Before you know it, your Art Biz Handbook will be well stocked. But it's not done. It's never done because it's a living document. You'll be adding business-critical procedures as they become evident, and updating older procedures when necessary.

Music by Wildermiss