Every contact you have with someone is an opportunity to wow them with your art and your professionalism, so you don't want to miss the chance to wow from the beginning.
Robert Mapplethorpe knew this. For his first solo exhibition in 1973 at New York's Light Gallery—a show of Polaroids—Mapplethorpe's invitation was a hand-printed image from a Polaroid original.
Mapplethorpe embossed his name on the outer edge, included the protective Polaroid cover, and inserted everything into hand-addressed, cream-colored Tiffany envelopes.
His invitation was a work of art in itself because, he believed, an exhibition doesn't begin when you go to the opening, but when you receive the invitation.
The moment people hear about the show, they start judging. Will it be any good? Who else will show up? Is it worth my time? Is there something better I could do that night?
What experience do people have when they get an invitation from you?
Here are 7 ways to use your invitation to wow guests and set the tone for your exhibition.
Real Mail
1. Send it via post.
The simple act of putting a stamp on an envelope and dropping it into a mailbox automatically increases the prestige of your exhibition.
In these days of email reliance, almost anything you send real mail will get more attention than if it were sent via email.
2. Make it one of a kind.
Your invitation will be extra special if you can make each invitation by hand: hand-printed, painted, or collaged.
However, recognizing that it's not easy to make a large quantity of handmade invitations, it's possible to begin with a mass-produced image and add embellishments, such as:
Areas of paint
Embroidery
Collaged elements
If you aren't able to produce handmade invitations, get a professional to design them and use high-quality paper for the printing.
3. Focus on the art. Focus on the art. Focus on the art.
This should be obvious, but take a clue from Mapplethorpe and hyper-focus the invitation on the art. He embossed a reproduced image from his show and reinforced the Polaroid theme in the invitation.
Consider making an invitation that is a creative preview of the work people will see when they attend.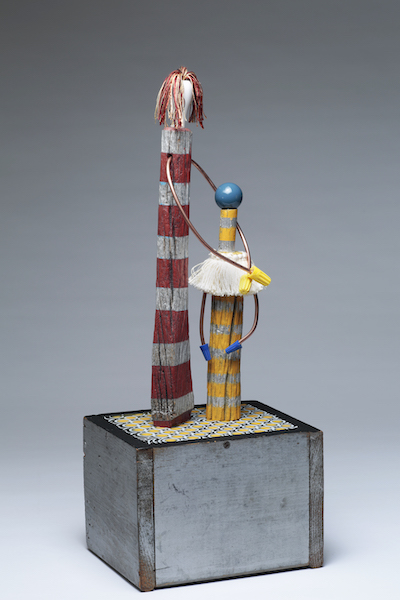 4. Don't skimp on the envelopes.
If you use a printing company, ask them to save their envelopes because they're usually too flimsy to impress.
You can catch someone's eye without Tiffany envelopes, and you'll pay significantly less than what Mapplethorpe shelled out for those back in 1973. Two of my favorite envelope resources are Envelopes.com and Paper Source.
5. Embrace a gimmick.
Your invitation shouldn't look anything like the bills and junk mail landing in mailboxes. Swanky envelopes and hand embellishments will eliminate all possibility of that, and you can expand on this desire to stand out.
Enclose your invitation in something with an odd shape.
You can mail in square or clear envelopes, mailing tubes, and almost anything else you can dream up.
6. Add handwriting.
Write a personal note by hand on the invitation and address the envelope by hand. Anything with your handwriting will get more attention.
Even if you're only sending a postcard, write a personal note somewhere on it.
If the envelope or invitation is a dark color, I recommend the Uni-ball Signo broad white gel pen. I've tried my share of white pens and had almost given up on them before I came across this brand, which was a lifesaver for holiday cards.
Email
As I mentioned above, an email invitation will never have the gravitas as one delivered in real mail. However, because we use email so much, it's important to be aware of how you can enhance the value of your email.
The best (and perhaps only) way to do this is …
7. Send 1 email to 1 person.
It's easy to send an email to many people at once, but there's not a whole lot that is special about those. If you want people to act, send a personal message to a single person. They'll notice the difference.
Here are some pointers for this process:
Address the person by name.
Add a line or two (or more) that acknowledges the relationship you have with them.
Tell them, with sincerity, how much it would mean to you if they would attend your show.
Use a personal subject line such as I'd love it if you could come to my show.
Discover where special invitations fit in your exhibition timeline.
This post was originally published on April 26, 2016. It has been updated with the original comments left intact.