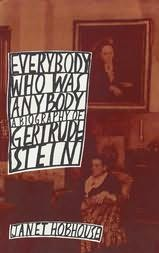 Beginning September 14, we (anyone!) will be reading Everybody Who Was Anybody: A Biography of Gertrude Stein by Janet Hobhouse. We use Twitter to communicate with each other about the book.
I selected this book because (1) it's been sitting on my shelf for almost 20 years; (2) it's cheap!; (3) I wanted to read about a female artist; and (r) Stein was intimately involved with the greatest artists and writers of the early 20th century. Stein is a critical figure in Modernism that we should all know more about.
Join us! It's FREE!
All you have to do is
1. Pick up a copy of the book (here's my Amazon link) and join in the conversation. There are $.35 copies on Amazon or you can find one at your library.
2. Leave your Twitter handle in a comment on this page to let us know you're joining in.
3. Start reading! We're aiming for 50 pages a week. The book is 218 pages long, but dense. Some of us will read faster and some slower.
4. Use the #gertrude hashtag in your tweet when you're talking about something you read in the book.
5. To follow along and see what others are saying, go to search.twitter.com and enter the #gertrude hashtag. Here's the direct link with the hashtag already entered.
There are no other rules, so don't even ask. We make it up as we go along. C'mon! It'll be fun!