Ready for a new website?
Yes, you could do it yourself by using any of the template sites available. But when you take the step to have a site thoroughly customized to your branding and goals, there are things you can do to lower your monetary investment.
Designers can't pull together a design from nothing. They need you to do your part.
When you do this, you will save money and have a more harmonious relationship with your designer. Here are four steps to get you started.
Step 1: Research
Look at other artist sites. When you find one you like, deconstruct it to figure out why you're drawn to it.
When you're on a site that you find attractive, is it because of …
Colors?
Font (styles and sizes)?
Navigation?
Layout of pages?
Text/stories?
Also, know which features you want on your site. Do you want a blog? An eCommerce platform? Email sign-up?
You should also be researching your designer in this phase.
Look at the sites that your possible designer has created. Do you like them?
Talk with the designer's other clients about their experience working with him or her. Hiring the wrong designer could be a costly mistake.
Step 2: Decide
Since you're a visual person, you would benefit from making a visual map of how your various pages are linked together or related.
What are the main categories in your menu?
What are the subcategories or drop-downs in the menu?
Try to limit your primary links to 5 or 6 choices. From those, you can have drop-down menus or secondary links on the primary pages.
At the same time you're working on the above, gather the images you want to place on your site. If you don't know what work will be there, it's hard to know what to include in the menu.
You shouldn't try to show everything on a website. You should show your best stuff – about 15-30 images per section.
According to Pat Velte, Web guru to myself and many of my clients, "If eCommerce is involved – if you're trying to sell directly from your site – it may work better to have fewer than 30 thumbnails on a page simply due to how the cart systems go from thumbnail to product page and back. Visitor fatigue is something to avoid."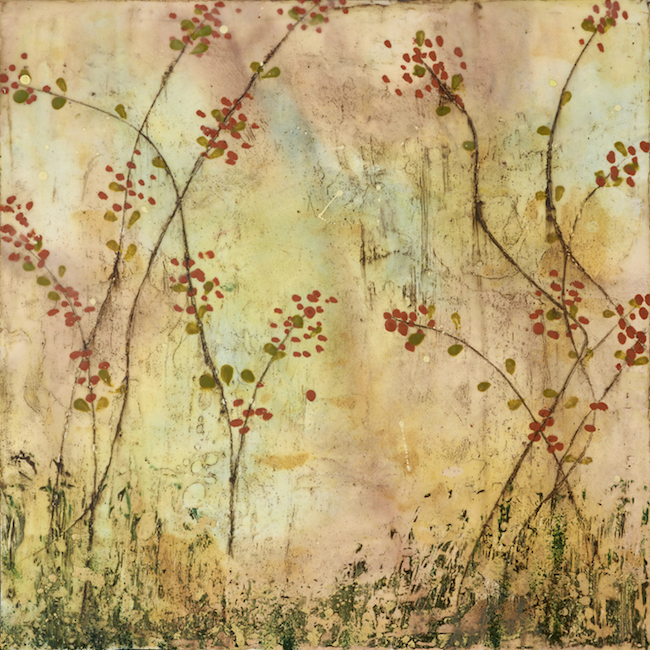 What categories make the most sense for your art? Some artists divide their work by media, while others segment it by color or subject matter.
Step 3: Write
Prepare searchable text for every page of your site. You might have:
Artist statement next to the art
Stories about individual artworks
Descriptions of special exhibitions
Promotional language for teaching offers
If you are planning to have a blog, have at least two or three blog posts ready to publish so that virtual space is filled when your site goes live.
Don't wait until your designer asks you for text. The time to start writing is now because it's a process.
"The perfect words" rarely happen in one sitting. You need to massage your writing over time.
Pat says that waiting on content from clients is the biggest bottleneck in the process.
Web designers can't make up material for you. That's not their job.
It's your job to produce the content for every page: text, credit lines, images, and, if you choose, video.
Ultimately, everything that appears on your site is your responsibility. Designers are not editors, spell-checkers, or proofreaders. You have to get this right.
Every change you make later will cost you money.
Pass your writing to friends, relatives, consultants, former teachers—anyone who can look at it with a critical eye.
Text revisions can waste valuable time and money when working with a designer. "Now that I see it on the page…" is a costly way to justify the time spent changing a page layout because of text changes.
Step 4: Resize Your Images
Get image specifications from your designer and provide to-size thumbnails and images. A designer could do this for you, but you'll save money when you do it yourself.
You'll save even more money if you name the image files in a way that makes it easier for your designer to coordinate image, credit line, and placement on the page. Time = Money.
Your Turn
What is your experience with this process?
How have you saved money on your website? Or what mistakes did you make that cost you money?