Guest blogger: Rani Garner
In 2006, I went on vacation, accidentally got into a new gallery while there, and wound up quadrupling my art sales.


Over the years I have come to the conclusion that having your work in exactly the right location – a very specific type of place – can change your success as an artist dramatically.
At the time, pure serendipity led my husband and me to vacation at a very upscale, yet small and discreet community where people have vacation homes.
I wandered into an attractive but small gallery and was looking closely at the work. The friendly gallery owner kept telling me info about the art or artist I was looking at until I finally told her I was an artist, not a buyer.
She surprised me by asking if I had a website, sitting down, and looking at my paintings in my presence. She took me on right on the spot!
I didn't know at the time how this would change my life. Only years later, looking back at my sales records, am I able to see how dramatically my art income had gone from $5000-10,000 a year (net profit) to consistently more than $30,000.
I've been in over a dozen galleries over a span of twenty-six years, and many have been beautiful, enthusiastic about my work, of excellent reputation, well established or up-and-coming.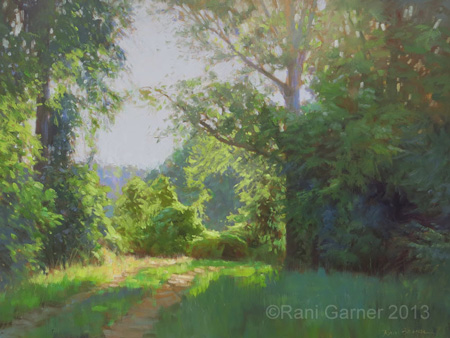 But only one has sold the stew out of my paintings – twenty and thirty per year, in the $600 to $3600 range.
And it has made the difference between struggling and making a living at art, for me.
Why It Works
I have come to believe that it is the location of the gallery that is key.
This gallery is in a high-end vacation destination, but not touristy. It's a place where people own vacation homes.
Think coastal areas or mountains.
And consider this: It's a place where couples go shopping together.


My gallery owner explains this is one of the reasons she sells so much: "Both members of the couple are right there to decide, with no having to go check with the other one [and probably not returning]."
Steps for Seeking a Vacation Destination Gallery
You can model my success.
1. Start by getting out a map and looking at what's within comfortable day's drive (as you will need to change out work a few times a year).
2. Once you've targeted a few areas, Art-Collecting.com is a great online resource for researching out-of-town galleries before you go.
3. Keep in mind that the gallery or perhaps even gift shop doesn't have to be large, fancy, or even one that you've heard of.
There are surely many galleries in such locations that are off the radar. They are worth visiting! Just because they are new or you haven't heard of them does not mean they don't sell a lot of art.
4. Get in on the ground floor.
I broke my rule of not working with brand-new galleries. I took a risk and it paid off!
5. Seek to be a big fish in a small pond.
There are only about twenty of us in this gallery, compared to galleries with a stables of eighty or more artists.
6. Know how to pack and ship your artwork to a gallery to keep them supplied when work is flying off the walls. Be a productive artist with plenty of new work to offer.
7. Be flexible when working with any gallery, as they will often request more of a certain type of work that has received good response.
8. Finally, and most important in my original success, have an up-to-date website or a tablet with your newest images in case the gallery asks to see your work on the spot.
Have a great vacation while you're at it!
I'd love to hear about your experience with galleries in vacation destinations.
About Our Guest Blogger
Rani Garner is a career oil painter living in rural Georgia. She paints light-filled landscapes that suggest a deeper reality just below the surface of things. Click here to learn more about Rani and her work.