The way we promote, sell, and buy art is rapidly changing, but there are still many good reasons to consider gallery representation.
Here's a list to remind you of the upside of working with a gallery.
A gallerist acts as your agent.
A good gallery will be your advocate and business partner. They will work to manage your career and help you raise your status and prices.
In a business where most of your time is spent alone in your studio, it is a blessing to have someone else working on your behalf.
Galleries have space.
Galleries have a physical space. With gallery representation, you don't spend a lot of time looking for new places to show your art because you already have space.
Gallery space is also usually in an area noted for art traffic. As nice as your studio might be, it probably can't compare to the sleekness and surrounding environment of a commercial gallery.
Galleries have trained salespeople.
If you're like most artists, you know how hard it is to act as a spokesperson for your art and to "close the sale" when something so personal is involved.
A gallery's sales staff takes care of this for you.
Galleries have lists.
You have your list of contacts, but galleries can introduce new people to your art.
The longer the gallery has been in business, the bigger and more loyal the list. Presumably. Like artists, galleries cultivate their clients for years.
The top galleries in the world take their artists to international art fairs like Art Basel Miami. In venues like this, galleries can meet collectors from all over the world during the short run of the show.
Galleries have connections.
Galleries have connections to the media and are still more likely to get reviewed by a newspaper, blog, or magazine than an artist-run venue.
Galleries are also associated with art professionals and curators that can elevate an artist's career. A good one will also introduce you to galleries in other locations.
Galleries deal with the paperwork.
You will always be required to keep your own financial records, but think of all the paperwork related to a sales transaction. Galleries take care of all that for you.
Gallery staff members deal with sales invoices and receipts, in addition to the collection and payment of sales taxes. They also act as a collections agent when someone doesn't pay their bill.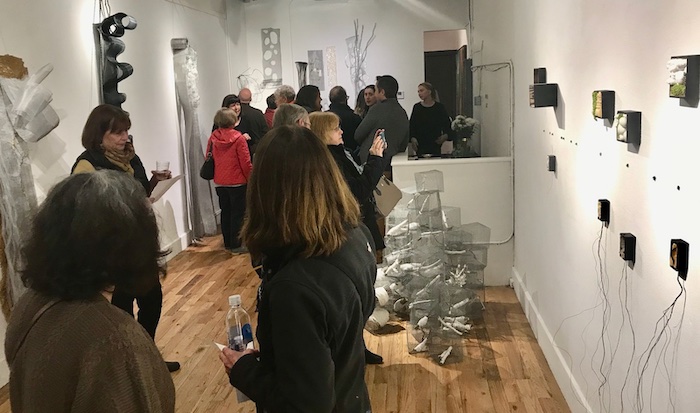 Galleries add credibility.
Let's face it, there is just something about adding gallery representation to your résumé!
The stamp of approval from someone else—someone who knows about and appreciates fine art—makes most artists feel more valid and valued.
Galleries feed into museums.
Galleries are a valuable part of the art ecosystem.
The fastest way to get your art into a museum is to attain top-drawer gallery status. Gallerists often work on behalf of their artists to get worthy art into museum collections.
Share your thoughts about Why or Why Not galleries in a comment below.
There is another side to this. The flipside of galleries is recounted in a post I wrote in 2013 for  The Abundant Artist blog: Why Artists Should Avoid Gallery Representation. (I don't have editing access to that post, but, if I did, I would certainly make it clear that, in general, gallery representation is highly desirable for the most serious artists on a museum path. I'd also give it a different title: WHICH Artists Should Avoid Gallery Representation.)
Originally published July 10, 2013. Updated with original comments intact.