Appearances shouldn't matter. They shouldn't, but they do.
In his book, Blink, author Malcolm Gladwell says we have just seconds to make a good impression. Like it or not, people start forming an opinion of you from the moment they see you or your art, hear your voice, or read something you've written. From the moment you say I'm an artist the judging begins.
I don't like to talk about an artist's appearance. If I'm going to discuss improving one's professional presentation, I'm much more comfortable discussing the presentation of the work: the matting, framing, wall labels, hanging hardware, pedestals, marketing material, and accompanying language.
Talking about how someone looks feels icky. But avoiding the subject isn't helping my clients or you, dear reader.
With the increasing emphasis to be on video and social media—to show up and show your face—it's not only important that you look your best. It's critical that you feel your best. And looking your best can help with the feeling part.
My guest for this episode of the Art Biz Podcast is Brooke Harker, who has been working with artists on video for the past year in her capacity as the organizer of Saturday Night Live Art Shows.
You'll hear how, after some very traumatic events, Brooke regained confidence with other people and in front of the camera. It was partly because of a makeup lesson, and we discuss makeup artist Samina Malik's belief that your face is a work of art from God and you are a blank canvas. But her renewed confidence was also the result of a lot of inner work.
I hope you enjoy this conversation with Brooke Harker.

Music by Wildermiss
Highlights
'I make cityscapes that are portals into other worlds.' Brooke shares her work and updates from the Saturday Night Live Art Shows. (2:27)
Face your fear of the camera by focusing on the fun. (7:16)

Brooke with Samina Malik at Grauman's Chinese Theatre.

Looking confident as an artist does not start with emphasizing your looks. (11:50)
Making a 180-degree shift by focusing on the internal first. (16:09)
'See yourself as a beautiful piece of art—you are a blank canvas.' (21:52)
Brooke shares the routine that helps her feel prepared for anything. (24:16)
Refocusing your attention to others starts with taking care of yourself. (29:10)
The benefits of being seen as an artist, and sharing rather than hiding. (32:00)
Telling your story is shaping the future of art history. (36:30)
Finding the courage to take the first step to feeling your best, inside and out. (37:35)
Everyone sees you and hears you, so figure out how to own it. (40:55)
Mentioned
Quotes
"I had a sense of purpose that was bigger than, 'How do I feel and what's comfortable for me?'" — Brooke Harker
"If a person says, 'I'll do it when I feel comfortable, I'll do it when I feel confident,' then they might not do it. You've just got to do it anyway." — Brooke Harker
"It's definitely possible to be in a very low place and shift to a higher energy, more positive place. We get to choose which place we're in." — Brooke Harker
"See yourself as a beautiful piece of art — you are a blank canvas." — Samina Malik
"There's a clarity that comes with sharing that doesn't come with hiding." — Brooke Harker
About My Guest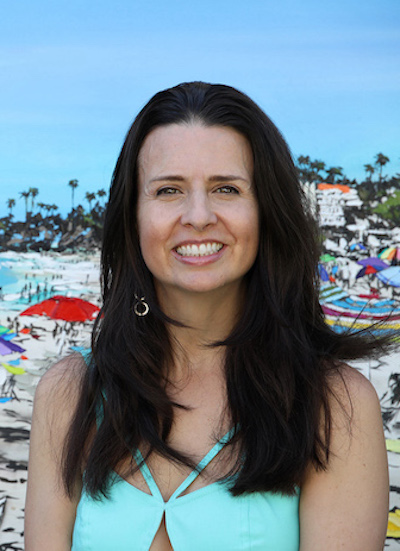 Brooke Harker is a contemporary artist based in Los Angeles, California. Her lively paintings of cities and coastal scenes are characterized by energetic brushstrokes in ink and thick oil paint applied with palette knives. These vibrant depictions of daily life capture a sense of motion and highlight moments of synchronicity. Harker calls herself a historian of the ordinary.
Her paintings are a collaboration with all of the people who've contributed to a place over time: architects, engineers, city workers who've placed street signs and pedestrians whose colorful fashion landed in view at the perfect moment. All of their individual actions brought together one moment, fated to be captured on canvas.
Follow Brooke on Instagram: @brookeharker

Music by Wildermiss