A number of years back I wrote a blog post called: What's The Point of Making Art When The World Is So Screwed Up?
Lately, we've noticed that that post has been getting a lot of attention, which made me think that it's time to update it and add a special podcast episode on the topic.
Why Make Art At All?
Before you can even begin to think about business at a time like this, you might need to come to grips with an existential question: Why make art at all? Why make it now?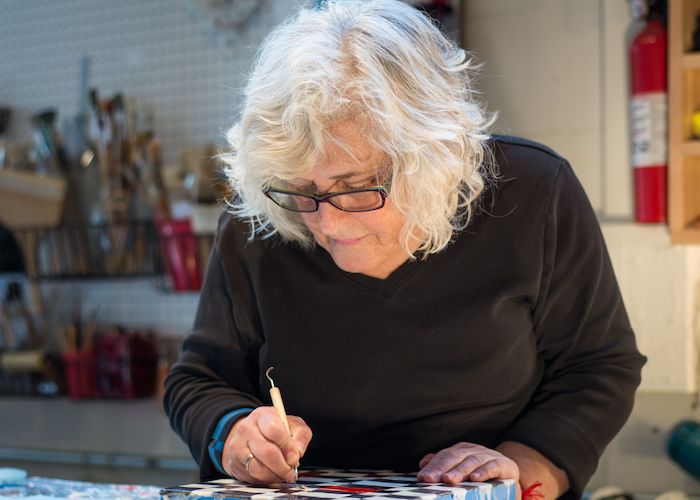 If you've ever questioned the reason for making art, you're not alone.
During the Covid-19 pandemic, artists everywhere are questioning their purpose. Many artists are having difficulty getting in the studio.
It's tough to be motivated when there's so much chaos around us. Why make art when you have no place to show it? When people aren't able to interact with your work?
Venues are shut down. Unemployment is skyrocketing. The kids at home require your attention.
With so many other things taking precedence, and with so much negativity in the news, you might begin to see your work as frivolous. Expendable.
Well-meaning thoughts might enter your head.
Shouldn't I be out there saving people?
Shouldn't I be doing something more important than making art?
First, you can absolutely volunteer to make masks, pick up dinner for a neighbor, or donate blood. And you should.
But that doesn't mean you should stop making art.
There are at least 5 reasons why you should continue making art at this moment, and I cover them in episode 48 of the podcast. This post is a complete transcript of the audio.
Listen Now

Music by Wildermiss.
5 Reasons to Keep Making Art
1. Art is why you're here.
Do you see that NOT making art isn't going to save the world?
In fact, it is doing the opposite because one less person isn't living their potential.
Not making art is depriving the world. Not only of the potential of your art, but of the entirety of you.
Making art makes you whole and allows you to contribute to the world from a healthier position.
2. Art encourages us to go within.
In all of the hustle of our techno-filled daily lives, art encourages us to slow down and venture within ourselves.
When we experience art, we escape to a place of peace and of contemplation. We are reminded of the richness of life.
We need art for respite.
Art washes away from the soul the dust of everyday life.
—Picasso
It's a cliché, and yet absolutely true. Art nourishes souls.
But it doesn't have this effect on everyone's soul because not everyone is privy to experiencing art.
They didn't grow up with it and, therefore, don't have a place in their lives for it right now.
Art only nourishes the soul of the artist and of those who are privileged enough to experience it.
Privilege doesn't have anything to do with income level. In this case, privilege means access. If kids don't make art in school or take trips to museums, they are less likely to experience art as adults.
With so many people at home right now, kids aren't getting their art classes. Thank heavens for online teachers, creative parents, sidewalk chalkers, outdoor sculptors, and online creators. We can all have a much-needed dose of soul nutrition if we pay attention on our walks and look for it online.
We are counting on you to bring it to us.
3. Art reminds us that we are all connected.
How delightfully ironic that art can be both a contemplative and social experience. While art makes it easy for us to go within, it also reminds us to look beyond ourselves.
I started college life as a painting major. I was a pretty good draftsman, but I never had the urge to paint every day.
What captured my fancy were the art history classes. Not because I loved memorizing slides, names, styles, and dates, but because the history of art taught me about the world.
Art was then and is now my entry point to history, religion, philosophy, geography, other cultures, mythology, science, revolution, and so much more. Art is a channel for experiencing the world.
In contemporary society, art unites us, but it does so differently than when we're cheering for a sports team.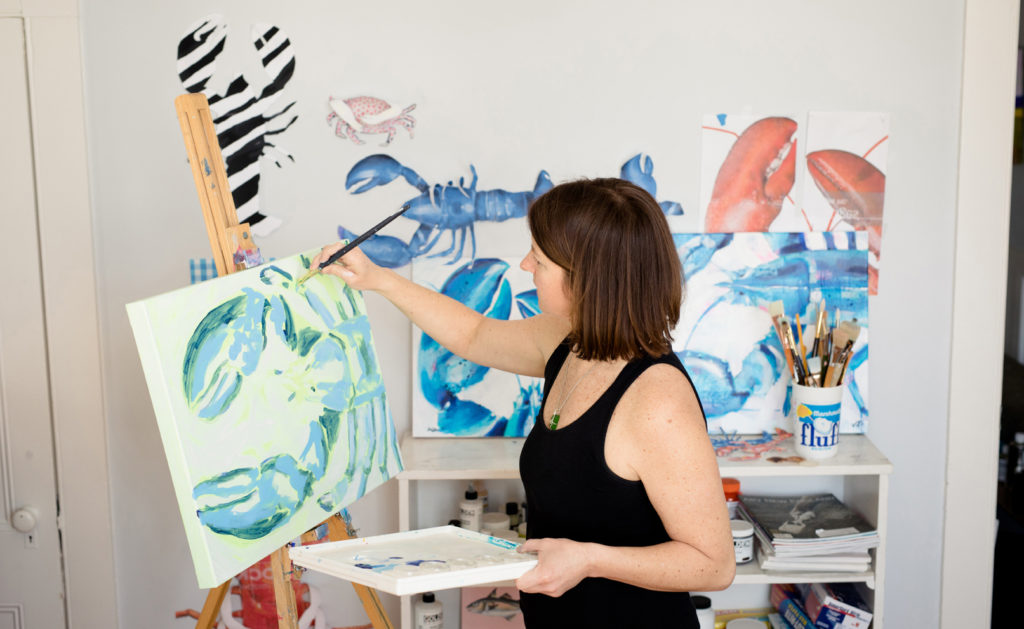 This was evident to me when I was immersed in Yayoi Kusama's Infinity Mirrors at the High Museum in Atlanta. And when I traveled to New York in 2005 to experience The Gates by Christo and Jeanne-Claude in Central Park. It was a cold February and the park was brown. Thousands of people were out walking around the paths and through the flowing saffron gates—together.
We were simultaneously experiencing it individually and as a collective. People were smiling, laughing, and posing for pictures—gate after gate after gate. And this was before we all had cameras on our cell phones.
Neighbors got in the spirit of the event by hanging orange fabric from their windows just as one might hang the banner of a favorite football team. It was the Super Bowl for art!
Today you'll find neighbors drawing homemade signs to place in their windows or sketching colorful chalk pictures in their driveways and on sidewalks for passersby. Art still connects us, even as we self-isolate.
During this coronavirus pandemic, the Getty Museum laid down a challenge on social media for followers to replicate famous works of art using whatever they have in their homes. I can't stop looking at the creativity of all these people all over the planet! Some of the results are incredibly close to the original inspiration. Others are downright hilarious.
The replicated works I've seen are mostly from Western art, but run the gamut of styles. The funniest are those that get close enough to be recognizable, but include contemporary commentary.
We may be safe at home, but art is an experience that we can continue to share.
4. Art completes our humanity.
It seems appropriate to share the thoughts of poet, critic, and former chairman of the National Endowment for the Arts, Dana Gioia, whom I had the pleasure of hearing speak at a conference in 2003. It made a huge impact on me.
His address, as I recall, was focused on the need for arts education but it could be equally applied to what we're experiencing right now.
The Greek word for art is poiesis (to make) , which Gioia described as "a way of knowing the world" separate from but equal to science and mathematics. As we know, the latter disciplines carry much more weight in budgeting by lawmakers and those who set school curriculum standards.
When art is seen as a luxury, Gioia's argument goes, it is considered unnecessary to our survival and our prosperity. We are complicated beings, not just analysts. We have emotions, desires, and fears that can't be explored or expressed through science and math alone.
Gioia explained that art is used to educate children beyond analytical thought process. It's used to teach them about their feelings. This comes in handy when, as adults, we are asked to find solutions for real-life situations and human challenges—looking deeper than facts and figures.
The arts foster individuality, freedom, and self-expression, the very ideals on which our nation is built.
Art is not a luxury, but absolutely necessary, to complete our humanity. It is "mainstream civic common sense," Gioia said.
In a commencement address to Seattle Pacific University, Gioia drove it home: "Art … simultaneously addresses our intellect, our senses, our emotions, our imagination, our intuition, our memory and our physical body—not separately, but together, simultaneously, holistically."
5. We need you to tell the story.
A few final words if you're not already convinced that there is value in continuing to make art.
Let's face it: Our world has always been messy. Yes, there has been much beauty and magnificence throughout the centuries, but there have been ruinous wars, brutal treatment of our brothers and sisters, and devastating natural disasters.
Artists have shone a light on inequity and injustice throughout history, even when they seem unbearable to view.
Francisco Goya painted the execution of Spanish patriots rising against Napoleon's army; Picasso painted the horrific aftermath of the bombing of a Basque village by Spanish Nationalists; and Dorothea Lange documented the suffering of migrant workers, displaced farmers, and the unemployed during the Dust Bowl and Great Depression.
Cherished works of art have survived through wars, plagues, recessions, and depression. And they will be there for us when we come out on the other side of this pandemic.
You should keep making art exactly because the world seems upside down at the moment.
We need people devoted to communicating through the universal language of art to tell the story of our age—whatever that looks like for you.
Perhaps you depict it in a literal fashion as social commentary (like Goya and Picasso) or documentation (like Lange). But maybe not.
Maybe, instead, your approach is more symbolic or abstract. Or maybe you seek to unearth the beauty amid such ugliness. Or maybe you are an artist who is uninterested in responding to current events and prefers to stay the course.
Whatever you choose to make now, just keep making art. We need more people who hold tight to their creative vision. Who remind us to pause and go within, while simultaneously bringing us together. We will always need that.
That's your purpose. That's why you were put here and given the curiosity and talent of an artist. To abandon it now—or at any other time—would be tragic.

Music by Wildermiss.
Join the Conversation
I need you to be part of the conversation. I need to hear from you! Please leave a comment and tell me how you're faring.
And join me on Instagram using #ArtBizNow and bookmark ArtBizNow.com as a hub for art business resources during this crisis.
A version of this post was first published in 2014. It was updated and republished on October 3, 2018. All previous comments have been left intact.