There's too much art hiding in studios, basements, and garages.
If you have a problem with overflowing inventory, especially a lot of earlier art that you aren't excited about showing, how about finding new homes for that work? At the same time, you'll create room for new art, support a good cause, and earn income.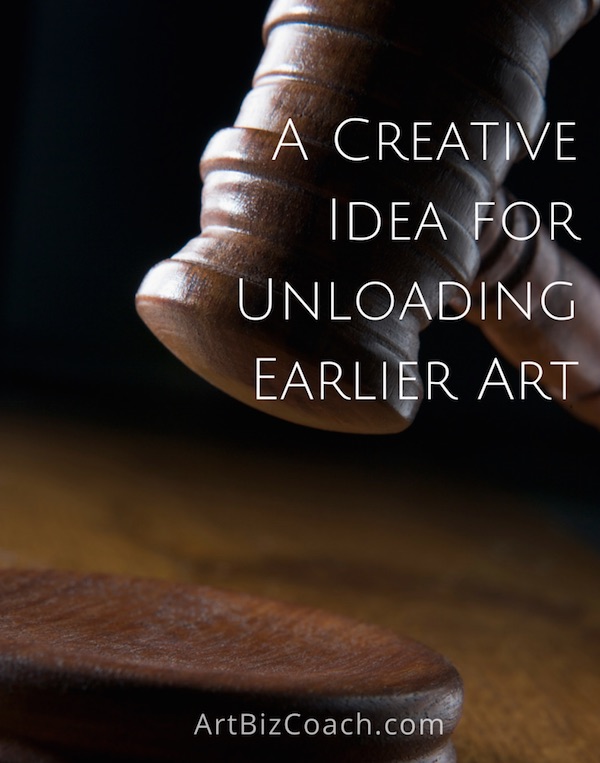 Organize a Fundraiser
Yep, I'm talking about a fundraiser.
Now before you cut me off because you think I'm going to tell you to donate your art, hang tight. Just the opposite is true because you're going to make money on this fundraiser.
There must be a cause that is close to your heart: animals, the environment, education, an art center. Pick one and ask a nonprofit organization to partner with you.
This partnership is key because the organization should have a solid list of members who would love to support the cause further.
The organization can help you publicize the fundraiser and perhaps, if available, even loan you a venue.
Your arrangement is to donate 50% of all sales to the organization and keep 50% for yourself.
3 Fundraising Formats
Here are three formats you could use for this process.
1. Hold a straight sale.
Install the work in a professional manner and put price tags on the work. Buyers make purchases just like at any other venue.
2. Have a silent auction.
Install the work in a professional manner with bidding sheets next to each one. Be sure to start with a minimum bid and require bidders to bid in increments that are reasonable for the item (e.g. $20 increments for higher-valued pieces rather than $1 or $5 increments).
3. Have a live auction.
Know an auctioneer? Take the bidding war to the stage. Just make sure that the auctioneer is sensitive to the art.
Of course there is much more to consider when organizing a fundraiser, but it could be well worth your time. In the end, a fundraiser will generate buzz about your art and the organization, nurture community connections, and … well … just make you feel good!
Talk Back
Have you ever held a fundraiser with your art that earned you money? Tell us what you learned in a comment here.